chilli jam stir fried noodles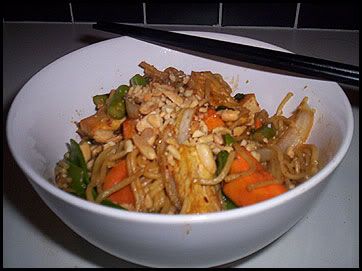 i tried making a stiry fry using chilli jam for the first time last night and it turned out great. chilli jam is available from most supermarkets in the asian foods section, or try your local asian grocer.
· easy
· serves 2
· vegetarian

INGREDIENTS:
· 1 small sweet potato, peeled and chopped into even bite sized chunks
· 1 tablespoon vegetable oil
· 200gm tofu, cut into 4cm batons
· 1/2 onion, chopped into wedges
· 2 cloves garlic, finely sliced
· 1 small chilli, deseeded and finely chopped
· 4cm piece fresh ginger, sliced ino thin matchsticks
· 4 tablespoons chilli jam
· 1 bunch asparagus, chopped into 4 cm lengths
· one handful of snowpeas, topped, tailed and halved
· 1 x 400gm packet singapore noodles
· 1/2 cup basil leaves (or Thai basil)
· 2 tablespoons toasted, crushed peanuts, to serve

DIRECTIONS:
1. Put the sweet potato on a shallow plate with a tiny bit of water at the bottom and microwave on high for about 3 minutes. Test with a fork to see if it's tender (it should be JUST tender - not mushy) and zap for another 30 seconds at a time if it needs more. Alternatively boil the sweet potato for 3-4 minutes until just tender.
2. Heat the oil over high heat (preferably in a wok). Fry the tofu until crisp and browned all over. Set tofu aside. There should still be some oil left in the pan.
3. Add the onion, garlic, chilli and ginger to the pan and stir fry for about a minute.
4. Add the chilli jam and stir fry for a further minute.
5. At this point, prepare the noodles by submerging in boiling water for 2-3 minutes or until noodles are softened and separated.
6. Add the asparagus and snowpeas to the frypan along with 1/4 cup of the noodle cooking water and fry for a minute or two. The veges should be crisp and bright green. Stir in the basil.
7. Serve immediately sprinkled with toasted peanuts.