apple and berry crumble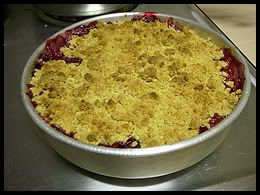 Ok - no strict recipe here. I've never really quantified how I make an apple crumble. So here's a rouugh guide. It's pretty hard to go wrong with an apple crumble. Basically, it's just midly spiced, soft apples (and berries - they go all oozy and yummy) scattered with a buttery, nutty, crumbly topping. Almond meal elevates it to total 100% yum. Serve it with custard for the ultimate winter comfort food experience. I always use Granny Smith apples, but you can use whatever green cooking apple is available to you. If you're feeling a bit happrehensive, start with a strict recipe then come back to this guide once you feel more confident. You can vegan-ise this by using a margarine or vegan freindly product in place of the butter in the crumble - you won't get quite the right crumbly texture, but it will still be good.

· medium
· serves 2-4, depending on how greedy you are :)

INGREDIENTS:
· 4 Granny Smith apples
· a splash of water
· 1 cinnamon quill
· a few cloves
· a handful of frozen berries of your choice (raspberry is good)
· custard, to serve

For the crumble
· butter
· flour
· almond meal
· brown sugar

DIRECTIONS:
Preheat the oven to 350 F (180 celsius).
Peel, core and slice the apples into thin wedges.
Throw into a pot with a splash of water and the spices, and cook on a low heat until just tender. Throw in the berries at the last minute - hey'll cook in no time. If you want to be really decadant, throw in a knob of butter. Also, forget adding sugar - it just really don't need it.
For the crumble - there's no better way than to do it with your hands. Start with butter straight from the fridge (it will soften up in your hands) - maybe about 100grams to start. Cube it and put in into your mixing bowl. Add a couple of big spoonfuls of flour and work it into the butter with your fingers. Add a spoonful of almond meal, and a spoonful of brown sugar too. The mixture should resemble breadcrumbs, so keep adding more flour, or a tiny but of butter, and work it in again until you have the right consistency. If you have too much butter, the crumble just won't CRUMBLE, but if you have too much flour, it won't have that buttery texture to it either. A bit of experimentation and you'll get it right. As for quantities - make a bit more than you think you'll need. It's worth it.
Lightly grease a cake tin or gratin dish. Pile in the apple mixture, and then spread your crumble on top. Bake for about half an hour, or until the crumble is golden brown and the apple/berry mix is bubbling away.
Serve with custard.