broccoli, artichoke and mint pasta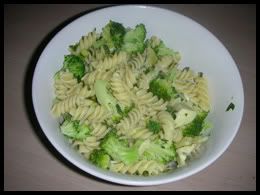 This is a really easy and yummy pasta dish - it basically only takes as long as the pasta takes to cook. If it all seems too straightforward and boring, think again - the broccoli works really well with the saltiness of the capers and the freshness of the mint. Don't skimp on the salt and pepper and olive oil - this dish really needs these things to bring it all together.

· easy
· serves 1
· vegetarian
· vegan

INGREDIENTS:
· 100gm pasta
· 1 small head broccoli
· 2 marinated artichoke hearts
· 1 tablespoon mint
· 1 tablespoon capers
· extra virgin olive oil, to drizzle
· sea salt and freskly ground pepper

DIRECTIONS:
1. Cook pasta according to packet instructions in plenty of salted, boiling water.
2. Meanwhile, wash the broccoli and break into tiny florets. When the pasta is about 2 minutes away from being cooked, add the broccoli to pot and continue to cook.
3. Now chop your artichokes into large pieces. Dice the mint finely.
4. Drain the pasta and broccoli well. The pasta should be al dente, and the brccoli tender. In a large bowl, or the original pot that you used to cook the pasta/broccoli, add the pasta, broccoli, artichokes, mint and capers. Season very well, and dizzle with a bit of olive oil. Serve.