mini mediterranean feast!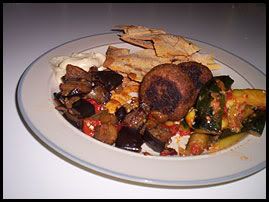 i should have been studying last night, but instead i created a yummy mini Mediterranean-style feast. the dishes were was pretty easy to make, although quite time-consuming (that's partly because i have only one big frypan and had to cook one salad at a time – cook the two salads concurrently if you can). the zucchini salad tasted even better today. and the photos totally don't do any of the recipes justice...
· easy, although time consuming
· serves 3-4
· vegan
· vegetarian

INGREDIENTS:
· 1 packet felafel mix, cooked and prepared to packet instructions
· 200gm ready-made hummus
· 3 large pita breads

warm zucchini salad
· 2 tablespoons olive oil
· 3 large zucchinis
· 2 cloves garlic, sliced
· 1 small chilli, seeds removed and finely chopped
· ½ cup tinned, chopped tomatoes
· 2 tablespoons chopped basil
· salt and pepper

warm eggplant salad
· 1 large eggplant, cubed
· salt and pepper
· 1 red capsicum
· 4 tablespoons oil
· 1 small onion, chopped into large pieces
· 3 cloves garlic, chopped very finely

DIRECTIONS:
1. Preheat the griller (broiler). For the eggplant salad, take the chopped eggplant and place it in a colander in the sink. Sprinkle liberally with salt and leave while you make the zucchini salad (this will draw out the excess moisture and bitterness, and make it easier to cook without sucking up gallons of oil).
2. Meanwhile make the zucchini salad. Halve the zucchinis lengthwise and through the middle and slice thickly. Heat the olive oil over a medium-low heat and fry the zucchini until it starts going golden around the edges (this took me about 10minutes). Increase the heat to medium and add ¼ cup of water. Keep stirring and pressing down the zucchini until all the water is evaporated (around 2 minutes). Then add another ¼ cup of water and repeat the process. Add the garlic and chilli and fry until softened, or about 3 minutes. Now add the tomato and basil and cook, stirring for another 2 minutes or until everything is combined and the sauce is quite dry. Season well and keep warm until everything else is ready.
3. Now for the eggplant salad. Drain and rinse the eggplant. Heat 2 tablespoons of the oil over medium heat and fry the eggplant slowly until it goes really soft and mushy (this took me about 15 minutes), stirring occasionally.
4. While the eggplant is cooking, slice the capsicum into strips. Drizzle with 1 tablespoon of oil and place under the grill until skin is completely charred and blackened. Transfer to a plastic bag or airtight container and leave to steam for about 10 minutes. Transfer to a chopping board, remove and discard the blackened skin and dice.
5. Add the remaining tablespoon of oil to the eggplant and add the onion. When the onion starts turning translucent, add the chopped garlic and continue frying until the garlic is soft and the onion is soft, tender and sweet (as opposed to crisp and browned). Add the diced, roasted capsicum and ¼ cup of water. Cook for another 2 or 3 minutes, until everything is combined nicely. Season well and keep warm until everything else is ready.
6. Cut the pita breads into triangles and grill for a minute or two on each side until crisp.
7. Serve by putting a big scoopful of zucchini salad, eggplant salad and hummus and a few felafels on each plate.