best chicken stir fry ever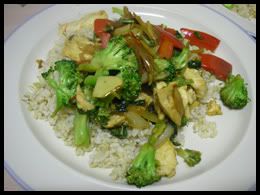 I've just discovered the best way to prepare chicken for a stir fry. It's called "velveting", a technique which I learned from Stephanie Alexander's kitchen bible The Cook's Companion, which ensures that the chicken remains tender. Combined with lots of fresh ginger, basil, the Indonesian sweet soy sauce kecap manis and fresh vegies, it makes a totally yummy and healthy dinner. Use organic chicken and you'll be laughing. Ramp up the chilli if you like it hot.

· medium
· serves 2

INGREDIENTS:
To "velvet"
· 1 chicken breast, trimmed of excess fat
· 1 egg white, whisked lightly
· 1 tablespoon rice wine vinegar
· 1 tablespoon cornflour
· 1 tsp salt
· 1 tablespoon peanut or vegetable oil, plus 1 extra tablespoon of oil

For the stir fry
· 2 teaspoons peanut or vegetable oil
· 1 onion, sliced into wedges
· 1 large knob of ginger, sliced thinly
· 1 long red chilli, thinly sliced
· 2 cloves garlic, sliced thinly
· 1 head of broccoli, cut into small florets
· 1/2 red sweet pepper
· 1/4 cup kecap manis
· 1/2 cup basil or mint leaves, torn
· brown rice, to serve

DIRECTIONS:
1. To velvet the chicken, slice the chicken thinly and combine with the rest of the velveting ingredients in a shallow bowl. Refridgerate for 30mins. Meanwhile, prepare and cut up all the other stir fry ingredients.
2. Bring a wok or wide, shallow fry pan to the boil with 4 cups (one litre) or water and the extra tablespoon of oil. Tip the chicken pieces into the water and simmer, stirring constantly, for one minute. The chicken pieces will turn white. Drain everything in a colander. Refridgerate if not using immediately.
3. For the stir fry, heat the oil in a wok or wide, shallow fry pan until very hot. Add the onion, garlic, ginger and chilli and fry for about a minute, stirring constantly. Add the chicken, broccoli and pepper and fry for a minute (don't cook for much longer - the chicken doesn't need it). Add the kecap manis and basil or mint and stir to combine. Serve over rice.