lemon and basil grilled chicken with veges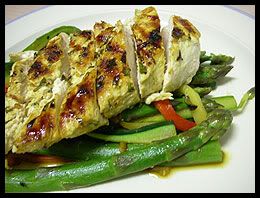 I love this kind of food - fresh, pretty fast and using lots of veges and herbs. Marinade the chicken for as long as you can - the lemon imparts the chicken with a light, zesty flavour, the garlic goes all sweet and intense, and the griller gives the chicken a gorgeous crust, contrasting with the juicy, tender fillet underneath. Love it.

· pretty easy
· serves 2


INGREDIENTS:
· 2 chicken breasts
· 2 cloves garlic
· 1 tablespoon of fresh basil, roughly chopped
· zest of two lemons
· 1 tablespoon olive oil, plus a little extra
· 1 medium-sized red pepper (capsicum)
· 1 bunch asparagus
· 2 zucchini

DIRECTIONS:
1. Trim the chicken breasts of any visible fat. Bruise the garlic cloves with the flat of a large knife, remove skins, and combine with chicken, olive oil, basil and lemon zest in a shallow bowl. Marinate in the fridge for at least two hours.
2. Cut the pepper into large, flat pieces, with the seeds and membranes removed. Rub with remaining extra olive oil. Cook underneath the griller/broiler until skin is completely blackened. Put the peppers into a plastic bag for about 10 minutes. The skins should be papery, and come off easily. Cut into thin strips.
3. Prepare the rest of the veges by removing the ends of the asparagus and slicing them lengthways into halves, and cutting the zucchini into long batons.
4. Over a medium heat, grill the chicken breasts and garlic until just tender, turning two or three times. This will really depend on how thick/big the chicken breasts are - it can take anywhere from 10 to 15 minutes. Don't overcook, or they'll become dry.
5. Transfer the cooked chicken to a plate, cover with foil and leave to rest for a few minutes while you cook the veges. Remove the garlic, chop finely and set aside.
6. Meanwhile, blanch the asparagus and zucchini for a minute in plenty of boiling, salted water. Drain, and transfer, along with the roasted pepper strips and chopped garlic to the grill. Grill for 2-3minutes, tossing until the veges pick up a bit of colour and caramelise slightly.
7. Slice the chicken breasts thickly and on the diagonal and serve on top of a pile of the veges.