chilli-soy tofu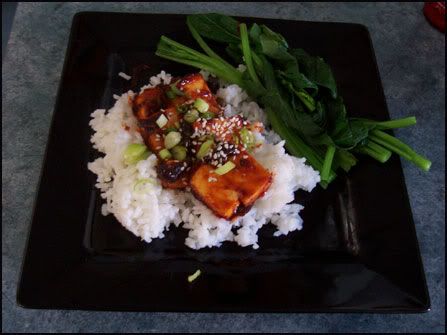 this is so yum, because the sweet soy sauce caramelises, and it ends up being quite meat-y in a good way. plus it only takes about 5 minutes. the kecap manis and hot chilli sauces i used are below.
· easy
· serves 2
· vegetarian
· vegan

INGREDIENTS:
· 1 tsp peanut oil
· 4 thick slices of firm tofu
· 4 tbsp kecap manis
· 4 tbsp hot chilli sauce
· 2 spring onions (shallots)
· 1 tbsp sesame seeds
· steamed rice and green veges (i used choy sum), to serve

DIRECTIONS:
1. Heat the oil in a small wok or frypan, and add tofu, kecap manis and hot chilli sauce. Let it bubble away for a couple of minutes, until the tofu starts to go a little crispy and caramelised.
2. Slice the spring onions while this is happening. Flip the tofu over, add half of the spring onions and cook for a further 2 minutes or so.
3. Serve the tofu with the sauce drizzled over the top, sprinkled with sesame seeds and remaining sesame seeds alongside steamed rice and green veges.